Bridgeway Bombers Chump Car Race Recap December 22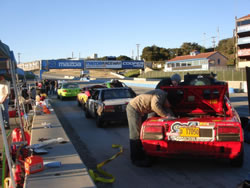 A quick recap for those of you that attended the race or might be interested in the racing escapades of the Bridgeway Bomber Racing Team.
Chump Car vs. Lemons racing
While we love our friend Jay Lamm and his brilliantly successful 24 Hours of Lemons racing events, the fact is we all came away saying that we wish Lemons could run more like Chump. The differences were; less cars, more racing, NICE HELPFUL PEOPLE JUDGING and TECHING. Overall the folks that ran the race really went out of their way to make sure you had a good time but the big difference was the no judge BS or penalties and it was appreciated. The group of racers were a bit more serious as well. If we had a choice between the two we would pick Chump but of course we still plan on running all the Lemons and Chump races we can. As of now Chump only has one race set for our area for 2012 (they have over 60 out of area) but they say they will have more.
Pit Crew
We had another great pit crew that the drivers can't say thank you enough. Kahil at the lead mechanic support roll and the 'Girls' Rachel and Shannon being there for anything we needed as well as entertaining the neighbor girls, Neal who spent the day and nights with us and was a great pit assistant and lead communications person (as long as the phones lasted) and lastly thanks for Vafa for coming in the afternoon, cheering us on and taking some pictures. Thanks to one and all.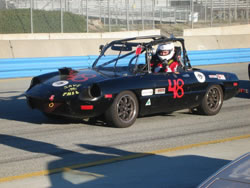 The Black Widow
The Black Widow had another great day (that Jim is the MASTER MECHANIC) albeit not without some mechanical issues but the bottom line is we only lost a few laps of time in the pits and it kept running when other cars didn't. That is 3 races for the Widow and she is a testament to Jim and Kahil's efforts. Now if we can just get another 75hp out of her and we are winners but more about that in a sec.
The Race
Our 3rd race was very similar to the other races. We were a slower car that got passed a lot but still finished 13th out of 35! We were the 33rd slowest car out of 35…yes Jim we really were but part of the reason we were that slow was that we lost 3rd gear which was partially responsible for the slower times and then we lost 1st, 2nd, and 5th…for about ½ the race so we only had one gear, fortunately which was 4th. This only slowed us a couple of seconds a lap but it did help us focus on keeping our speed up throughout the track. At the end of the day you could argue that we were better drivers for it.
Kevin and Jim again fought it out for top lap with Kev less than a few 10 100th's of a second ahead with me a little less than 2 seconds behind but I pledge to get both of them in one of these races. Jim only spun once (new record for Jim J) and all 3 of us dodged cars flying around us from time to time and never were off track or hit which is more than we can say for a few other cars.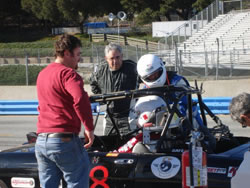 So how does the 33rd fastest car out of 35 with only one gear come in 13th? The answer is that we keep doing the same thing…all drivers are close, the car stays on the track and fast pit stops. All of this means we accomplish our goal when we started this year…finish consistently and in the top 3rd…MISSION ACCOMPLSHED!! But for 2012 we have a new mission. We are moving to….GET ON THE PODIUM type finish and 2012 is going to bring it more than once or so says Jim and I…right Jim? J
After analyzing the laps from the last race what I know is: If we would have not lost the gears we would have finished 9th or 10th as we would have been 2 seconds a lap faster. If we can reduce our fastest lap by 4 seconds we would have finished in 3rd and if we could have reduces our fastest lap by 5 seconds we would have won! How do we do that? Well we are working on figuring that out right now and by the time the next race comes around we will have something new up our sleeve. We have the NEED FOR SPEED and we will find it.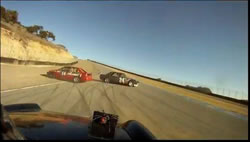 So that's all for now…there will be additional pictures posted but for now you can enjoy Kevin's wild ride and then a really nice slide show from Vafa
//www.youtube.com/user/LifeOnTheTrack
Here's to more fun and great racing in 2012 and our expanded race schedule!